Juvenile Criminal Law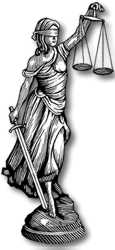 Juvenile Law covers various areas of practice such as criminal offenses, child protection cases, and "child in need of care" cases. If your child was charged with a crime that does not mean that your child is guilty of the crime. In most juvenile cases, guilt by association accounts for a majority of the wrongful criminal prosecutions in Kansas. It is imperative that you consult with a qualified juvenile defense attorney while giving your child the benefit of a doubt that they are being honest about the situation. A criminal record is very damaging to your child's future and may be avoided altogether.
The main purpose of juvenile court is to punish a guilty offender and punish them in such a way that the juvenile offender will turn their life around. However, do not mistake that this is a lenient process or that the judge will likely go easy on your child if this is their first offense. An experienced juvenile law attorney from McDowell Chartered will aggressively defend your child and if necessary work with the prosecution to work out a less devastating punishment for your child.
McDowell Chartered will advise you and your child of your rights in juvenile court and explain the options in sentencing such as community service, diversion or probation. Here are a few of the common juvenile case that we can assist you and your child with:
Assault and battery
Arson
Auto theft
Bullying
Damage to property
Drug charges
Drunk Driving
School offenses
Underage drinking
Kansas Child Protection and Child in Need of Care Cases
On occasion school officials, child protection counselors or police may suspect that a child is or has been abused or neglected by a legal guardian or parent. When this occurs, the State of Kansas is likely to file a Child in Need of Care case against the child's guardian or parents. In the event that you or a spouse is faced with charges of abuse or neglect of a child, you have the right to a hearing. To protect your legal rights, you should consult with an experienced family law attorney. In the event that you are not able to afford legal fees using a private attorney, you can request that the court appoint an attorney for you. Unfortunately, many of the public attorneys have too many cases to handle at one time to give your case the time and attention to provide the best representation you need. Hiring a private family law attorney will give your case the time and attention necessary to protect your rights.
Located in Wichita, Kansas, McDowell Chartered is a family law firm that serves clients throughout Sedgwick County and the greater Wichita Metro Area. Tom McDowell was admitted to practice law in 1992 and limits his practice to legal matters centered on family law matters involving children.
Dedicated, Personalized Service For Juvenile Law Cases.
At McDowell Charter, your concerns will be heard and they will educate you about aspects and case law that impacts your specific case. You will be involved and communicated throughout the entire legal process so that you are informed at all times. At McDowell Chartered, they treat clients as people and provide a very warm and friendly environment for you and your family. At McDowell Chartered we bring aggressive but reasonable negotiating experience to better assist our clients and bring a successful resolution to your case.
Contact McDowell Chartered For Your Family Law Needs at (316) 633-4322
At McDowell Chartered, in Wichita, Kansas, we have extensive experience in legal matters that affect your children and family. We accept Visa and MasterCard. Please contact me for a consultation. We represent clients mainly in the cities of Wichita, Hutchinson, Newton, Winfield, Wellington, Andover, and El Dorado as well as the counties of Butler, Sumner, Harvey, Cowley and Reno.
McDowell Chartered
830 N. Main Street
Wichita, KS 67203-3607
Telephone: (316) 633-4322
Fax: (316) 269-3797